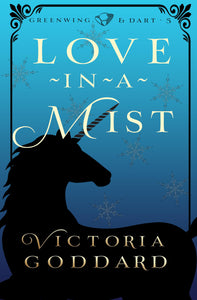 Greenwing & Dart 5: Love-in-a-Mist
Regular price
$6.99
$0.00
Unit price
per
Magic is out of fashion.
Murder, like romance, is always a possibility.
The journey home from Orio City was supposed to be straightforward. Avoid being captured by brigands or agents of the criminal gangs; try not to cause any further spiritual or magical shocks; and make it over the mountains before winter closes in. Jemis Greenwing and his best friend Mr. Dart are both fairly sure it's too late to prevent Mr. Dart's new cousin Jullanar Maebh from thinking them utterly mad.
A sudden blizzard drives Jemis and his friends to seek refuge in an eccentric country gentleman's even more eccentric house. They only want to stay out the storm without revealing all their secrets: but the other guests have secrets of their own, and Mr. Dart's ability to hear the inanimate has some unforeseeable consequences.
Blizzards. Unicorns. Ciphers. Noblesse oblige. A budding romance. And that's before the murder.
Book Five of Greenwing & Dart, fantasies of manners--and mischief.
---