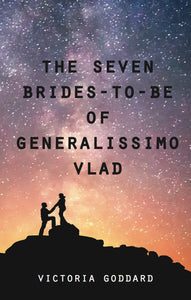 The Seven Brides-to-Be of Generalissimo Vlad
Regular price
$3.99
$0.00
Unit price
per
Portia MacArthur is possibly the best courier in the galaxy. She is severely scarred from a training accident, and prefers the solitude of space to social interactions, especially ones involving her family.

Vlad Millington, new Generalissimo of the Kinrod Syndicate, is a noted rake of galactic fame about to choose his bride.

When Portia and Vlad were ten, she promised him she would be there with a fleet of spaceships.

Nothing—not social disgust, not her brother's idiocy, not a mysterious interstellar predator, not even the black hole in the centre of the galaxy—will keep her from keeping it.

She just hopes Vlad's still worth it.
This novella is science fiction and stands alone, set outside the universe of the Nine Worlds.
---